CURRENT
The Helleday Foundation awards scholarships to promising researchers in order to support their continued research careers. Here is a list of current awardees.
Dr Maeve Long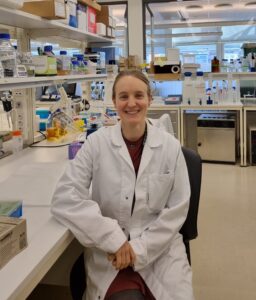 What do you study?
Several of the cancer inhibitors developed in the Helleday laboratory target proteins localised to the mitochondria and involved in DNA maintenance and repair. The aim of my work is to further our understanding of the mechanism of action of these proteins at the mitochondria to improve existing therapies and identify novel avenues of interest for cancer drug development.
What is the importance of your research?
By studying the mechanism of action of proteins in the cell we gain important biological insight which can help us improve existing therapies and identify new ones. To this end, I am part of an interdisciplinary team where I collaborate with researchers from different backgrounds to drive drug development projects forward.
Why did you get into research?
While studying biology in school I became fascinated by the impact that fundamental research can have for the biomedical field. I decided to pursue research and I am keen to study how cellular processes are affected in disease such as cancer and how these can be targeted to fight cancer growth and development. The goal is to use research to bring about meaningful changes and improvements to patients' lives.
Dr Victoriya Tsuber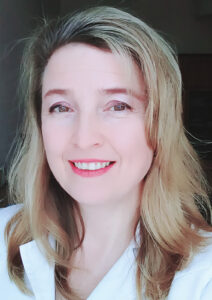 What do you study?
I study effects of mutations in cancer on amino acid composition of proteins in the cancer cells. Also, I analyze data on response of different types of cancer cell lines to MTH1 inhibitors with the goal of finding biomarkers of cancer cells´ sensitivity to accelerate achievement of precision treatment of cancer. I am interested both in biology of cancer and in all types of data analysis and statistics, and I believe that making the two fields meet can provide new insights about cancer.
What is the importance of your research?
My research is aimed at a better understanding of what makes cancer cells different from each other. I do believe that it will contribute to our ability to target every cancer at its particular vulnerability.
Why did you get into research?
I have always been interested in life sciences, especially biology. I immensely enjoyed studying biology at university. At present I am greatly excited at the advent of huge masses of data on many biological processes and phenomena, as it has greatly expanded possibilities of getting an understanding of the biology of life.
PAST
Dr Prasad Wakchaure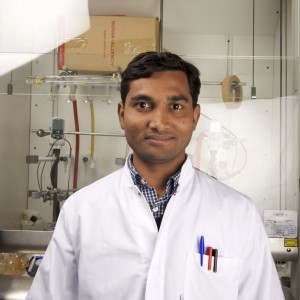 What do you study?
I design and synthesise potent MTH1 inhibitors. MTH1 is a important protein which allows cancer cells to survive. The inhibitors are designed to be harmful for cancer cells and non-toxic in healthy cells, thus treating cancer without side effects.
What is the importance of your research?
As a medicinal chemist, I design and synthesise small molecules which are potent MTH1 inhibitors. The compounds selectively target MTH1 with high potency. My role is to understand the SAR (Structure Activity Relationships), and use that information to design and synthesize compounds with in vitro and in vivo efficacy and safety. I am part of highly interdisciplinary team, and therefore in addition to medicinal chemistry I collaborate with other disciplines to move our projects forward.
Why did you get into research?
My initial curiosity for chemistry developed into a passion for organic chemistry during my post graduate years at the University of Pune. There I specialised in the synthesis of natural products. In Prof. Helleday's group I have now had the opportunity of applying my synthetic skills in the challenging area of medicinal chemistry where the compounds I make can have the potential to treat different cancers.
Dr Cynthia Paulin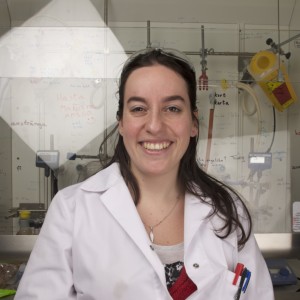 What do you study?
The main focus of Helleday Laboratory is to develop treatments for cancer based on inducing DNA damage. The principle is to inhibit enzymes that are responsible for the repair of DNA damage in cancer cells. Many disciplines are required to achieve our goal and my main focus is to design and synthesise novel small molecules that would become potent inhibitors towards such enzymes. I also determine their activity using biochemical methods.
What is the importance of your research?
My research focuses on the need for improving current treatments for one of the leading causes of mortality and morbidity worldwide: cancer. Synthesising potential new small molecules that would treat cancer is of huge importance for me and I'm really proud to be part of this research group.
Why did you get into research?
Science has always attracted me. I first studied physics and chemistry before specializing in organic chemistry. Creating complex natural molecules from simple starting materials became my PhD challenge.
Although I was passionate about my research, something was missing for my complete satisfaction. Joining the Helleday group was key to access this satisfaction: I am now applying my research to develop a cure towards cancer aiming to both increase the quality of life and the life expectancy of patients. This was the key to turn my research into fascination…
Dr Sanjay Borhade
What do you study?
Research towards treating cancer is required a multidisciplinary knowledge and approach. At the Helleday laboratory I am a part of one such discipline, namely medicinal chemistry. My key role is to design and synthesise new chemical entities (NCEs) which can potentially inhibit various enzymes that are responsible for the repair of DNA damage in cancer cells
What is importance of your research?
There are no safe treatment available for cancer patients. The current treatments for cancer has various side effects. At the Helleday Laboratory we are designing a selective small molecule inhibitor for the DNA repair enzymes (responsible for the repair of DNA damage in cancer cells) so as the normal cancer cell will be not affected/less affected.
Why did you get into research?
I was motivated towards research in organic chemistry during my graduation and post-graduation studies. I joined as a trainee immediately after master degree at the Lupin pharmaceuticals. At the Lupin I saw the organic chemistry being used to save human life from diseases. Which further accelerated my interest into research. Thereafter I joined PhD studies and since then always trying to use synthetic skills to design and synthesise a drugs towards various human diseases.
Dr Pegah Rouhi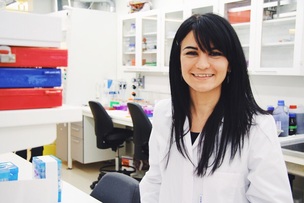 What do you study?
I study effect of different MTH1 inhibitors on tumor growth. MTH1 is an enzyme, which helps to remove the toxic and defected nucleotides (DNA building blocks) and subsequently helps the tumor cells to survive and proliferate. By removing this enzyme, defected nucleotides will be incorporated into the DNA of the tumor cells, which in turn, leads to cell death and removal of the tumor mass.
What is the importance of your research?
My work is necessary and important in order to accelerate the process of drug screening. I investigate the efficacy and the underlying mechanisms in potential treatments for cancer.
Why did you get into research? 
As most of the scientists in this field, I've always had a passion for biology, which led me into specializing in the field of biology and molecular cell biology during my undergraduate studies. Losing my grandparents to cancer and the fascination I developed for tumor biology during my studies, led me to focusing my Ph.D studies extensively on the mechanisms underlying tumor cell spreading throughout the body and different ways. And now I'm working as a postdoc here in Helleday's lab and try to find the most efficient anti-cancer drugs with the least side-effects which allow the patient to have a high quality life while undergoing cancer treatment.
Dr Sofia Henriksson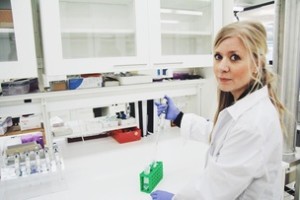 What do you study?
I study basic mechanisms governing DNA replication, damage and repair. The DNA in our cells is particularly vulnerable to insults, since it carries the genetic information passed between cells and over generations. The integrity of DNA is constantly threatened by potentially damaging agents originating from both endogenous and exogenous sources. Induction of DNA breaks is intimately linked to the development of cancer and is also exploited by most available anti-cancer therapies. Therefore, increasing the knowledge regarding the cellular response to DNA damage is of great importance in cancer research. My studies aim at understanding novel aspects of DNA replication-associated damage and also how the toxicity of exogenous DNA damage, such as ionizing radiation, is regulated by intracellular factors.
What is the importance of your research?
Our ambition is to conduct research that ultimately will benefit patients suffering from cancer. Accordingly, this project is focused on deepening the mechanistic understanding of DNA repair pathways, which is fundamental for most aspects of cancer biology, including cancer development, progression and treatment.
Why did you get into research?
I originally studied biomedicine, which covers a broad range of subjects within medicine and molecular biology. While studying I found cancer biology to be of particular interest and therefore decided to pursue my PhD within this field. During this time, I started to study mechanistic aspects of the DNA damage response. I have since then continued to work with basic mechanisms underlying genomic instability and DNA damage, since they are central for understanding the origin of cancer and to potentially find targets in order to develop novel therapy options.
Dr Oliver Mortusewicz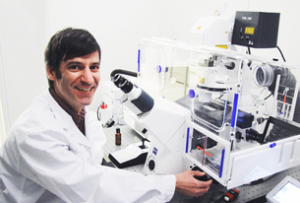 What do you study?
Basically, coordination of DNA replication, repair and transcription. The mammalian genome has to be constantly copied (replication), read (transcription) and repaired (DNA repair) which poses a great challenge to mammalian cells. We are interested in deciphering the spatio-temporal coordination of these essential mechanisms using state of the art techniques. Our main interest lies in understanding the interplay of the repair of replication-associated DNA damage, which is induced by many anti-cancer drugs, with on-going transcription.
What is the importance of your research?
We have identified various new proteins playing a crucial role at the crossroad of replication, repair and transcription. These new insights will help us to understand the molecular mechanisms of how these cellular processes are regulated and coordinated and might in the end lead to the discovery of new concepts for the treatment of cancer and other diseases. My main interest is to understand the in vivo dynamics of DNA repair within the context of chromatin and the spatio-temporal co-ordination of DNA repair with other nuclear processes such as transcription and replication. Key techniques involve advanced live cell microscopy including laser microirradiation and FRAP complemented by cell-based repair assays.
Why did you get into research?
I have always been interested in nature and science. Thus it was a natural decision for me to study biology. I later specialised in molecular biology to understand the inner workings of the human cell. Observing how a living cell repairs its damaged DNA in real time under the microscope still fascinates me. I believe that there is still a lot out there to be discovered about our biology and every day in the lab might lead to a new breakthrough and get us one step closer to understand how life works.
Dr Armando Cazares-Körner
What do you study?
I am the project leader of a team able to design, synthesise and validate novel therapeutics against cancer and other diseases
What is the importance of your research?
Our results have the potential to improve the quality of life for many people (14 million new cancer diagnoses every year, more than 8 million deaths annually).
How did I get into research?
My first proper contact with science was when I was 16, my chemistry teacher signed me up for the Chemistry Olympiad challenging me to get one of the first places in exchange for no more work in the classroom.  As a result I was taught by the best professors at the national university who made me love chemistry and science. I got into research because the complexity and precision of life fascinate me.
Supporting cancer research in Seville, Spain
Efforts to developing and understanding how MTH1 inhibitors work as a treatment of cancer takes place all over the world. This is why the Helleday Foundation currently support Dr Luis Orta at the Department of Cell Biology at University of Seville and his project entitled Characterization of clastogenic effects, SCE and micronuclei in neuroblastoma stem cells after MTH1 inhibitors and combinations. This project aims to understand how MTH1 inhibitors can work as a treatment of childhood cancer.